Indian street food is so popular we can't imagine India without street food. Every Indian street sells different yummy chat pati food. It can be dessert or savory but for sure they are delicious. It is very common to us that we have so many memories and stories with the street food wala. Starting from school days we love to have street food. It might be an after school time also can be a meeting point with friends in summer vacation. Similarly, office tea breaks whatever the situation or time we and our friends like to have some time with food. This means a friendly time or a family time there must be a favorite street food place. That is why in India street food is so popular.
Coming to a variety of street food as we are a diversified country the food also so differs. The taste of the food is also different from one place to another. Every state is popular for one specific street food. For example, Mumbai is popular for vada pav, Kolkata is popular for Kathi rolls. And also Andhra is popular for dosa and Mirchi baji. Delhi is famous for the Chole Bhatura and Matar kulchas like many other varieties are there. Here we are listing out the best 15 street food which is very yummy to taste and popular. Which we feel happy while having it.
15 Best Indian Street Food :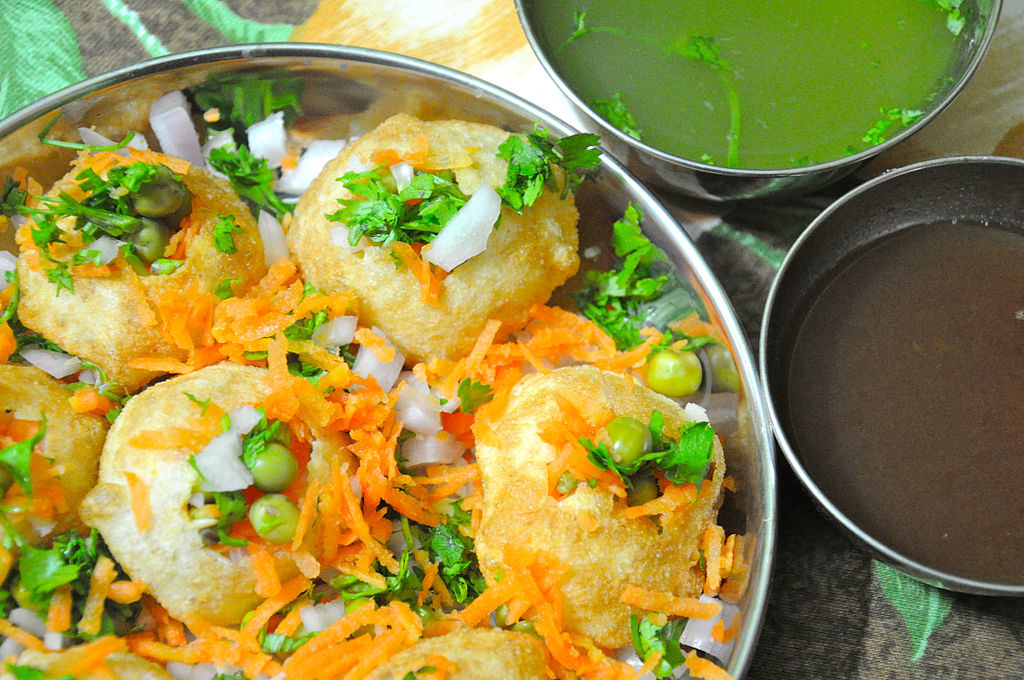 The most loved and also popular food can enjoy it only in the streets of India. Pani puri has different names some places they called Gol gape, or Gup Chup and also Phuchka. Whatever the name might be but people will be crazy for them. A small puri stuffed with potato chana masala and green mint and coriander water with chopped onions. We can enjoy it countless if they served with green and sweet chutney. Pani puri is so popular because of the taste and price and the way they serve.
A savory dish originated from Maharashtra. Vada pav is a quick go-to to eat food for the busy lives of Mumbai. Vada pav is also popularly known as an Indian version of a burger. A potato dumpling in the middle of a fresh bread bun (pav) serving with dry garlic chutney and mint chutney. It is so quick and easy and tasty savory. You can have it in lunch, breakfast, dinner or as a snack. A quick fill to our tummy with the yummy flavors. And moreover, the price of the vada pav is so reasonable.
Another popular savory from Maharashtra. Pav bhaji is a mix of mash vegetables and spices and butter and a fresh bread bun. The name pav bhaji means pav means fresh bread bun and bhaji means vegetable curry. The real top-up for this dish is butter, chopped onions, and a lemon. Pav bhaji is available all over India whether it is south or north, west and east at a very affordable price.
4. Mirchi Bajji:
This snack is originated from Rajasthan and also from Andhra Pradesh. The process and serving style is different. If we taste in the northern part of India the big size Mirchi stuffed with potatoes and dipped in gram flour batter and deep-fried then served with mint chutney. If we taste the same Mirchi Bajji in the southern part they stuffed with some chopped pickled onions it will be different we can have it without any chutney. The actual taste can enjoy when it is served hot. Available all over India at affordable prices and also different flavors.
Samosa is quickly deep-fried savory stuffed with different stuffing. A popular street food not only India also throughout the world. Samosa available in different flavors like aloo samosa, sweet corn samosa, onion samosa, chicken samosa, kheema samosa like that in different flavors. In addition to that samosa can be served with mint chutney, tomato sauce.
Whether it is an aloo tikki alone or a chaat savory is a very popular chat pata flavors. This chaat is available all over India and originated from Delhi. Aloo tikki chaat made with potato patties and chana or a matar curry with curs and all other chutneys. The real taste can be enjoyed when it is hot.
Momos are very popular in the Northeast region Himalaya, Assam, Sikkim. The process includes an all-purpose dough stuffed with vegetables or chicken, minced goat meat, or beef. Momos are steam cooked and served with red hot chutney. The taste is so authentic and nowadays momos are available all over the streets in India.
8. Jalebi:
Indian popular street dessert which is not at all easy to cook includes culinary art. The batter for jalebi prepared with all-purpose flour soaked overnight for fermentation and next deep-fried in a preheated pan in a flower shape. And next dipped in sugar syrup. Jalebi served hotly deep-fried in ghee ( Indian clarified butter) is tastier.
9. Bhel Puri:
A quick savory snack made with puffed rice. This savory snack is only available in India. In the northern part of India called it the bhel puri. And in the south, they call it a muri mixture. Bhelpuri or muri mixture is very popular in coastal regions. Mostly we can see bhel puri in beach areas. It consists of lots of puffed rice, sev, papadi, chopped onions, tomatoes, boiled peanuts or channa with seasoning and spices. All this mix up well with lemon juice gives the real flavor.
10. Kulfi:
A popular Indian ice cream which is originated from Punjab. Kulfi is so popular all over the world. It consists of condensed milk, sugar, and nuts. Kulfi is also available in different flavors like rose, cardamom, pistachio, saffron, mango.
11. Galouti kebab:
Galouti kebab is popular and originated from Lucknow. Prepared with minced mutton and green papaya and spices and butter. It melts in our mouth when we have it. The real taste can feel only in the streets of Lucknow. It just melts like butter so people with dental problems also enjoy this that why they call it as toothless king.
12. Dabeli:
Dabeli is an Indian savory which is similar to vada pav. The origin of this snack is Gujarat but it is popular all over India. A fresh bread bun stuffed with potatoes and dabeli masala, pomegranates, chopped onions, tomatoes. And served with sweet chutney and mint chutney. It is easy to prepare a quick snack.
Dosa is a southern Indian recipe that is now popular all over the world. Dosa available is more than 100 flavors. But some common dosa is popular like cheese dosa, masala dosa, onion dosa, omelet dosa, family dosa. is also As it is available in so many varieties it is served with different varieties of chutneys like coconut, peanut, ginger, onion, tomato chutneys.
An Indian authentic traditional savory originated from Bihar and Jharkhand. The process of cooking is different the litti are baked in charcoal grill without any oil and also some times they are deep-fried and as a side dish, an eggplant chutney is served. Litti is made with whole wheat dough stuffed with potato masala. Litti chokha is available only in some states.
Kathi roll is so popular in Kolkata and originated from West Bengal. Parathas stuffed with different stuffing like egg, paneer, vegetables, chicken, fish, meat, prawns. Pickled onions and tomatoes with sprinkled chaat masala and other seasonings. Kathi roll is wrapped with butter paper very handy to eat even you walk. It is slightly tangy, sweet and spicy in taste.